Address verification and eCommerce
Address verification is used to check if a customer's address on an order detail is correct and deliverable.
In eCommerce verifying addresses with an integrated address validation solution such as DirectAddress provides many benefits for both the customer and the organisation.
An address verification solution such as DirectAddress can be easily integrated with your eCommerce website, allowing customers to find and verify their address prior to completing an online order.
Discussed below are some of the main ways an address verification solution can greatly improve your eCommerce website's performance.
Accurate Location Data
With an address verification solution in place, eCommerce customer location data is more accurate and reliable. In Ireland, addresses entered into an address verification solution are validated through the ECAD (Eircode Address Database), ensuring the most up-to-date address data is being utilised.
When it comes to customer data, accuracy is paramount. Accurate and reliable data enables finely targeted marketing campaigns and will help your organisation to make better informed decisions to drive traffic to your eCommerce site.
It also improves efficiencies and reduces the workload, as the API automates tasks that were previously done in a manual time-consuming manner.
Faster Delivery
As always, it's incredibly important that customers are satisfied that their deliveries arrive on time and within the expected timeframe when ordering on your eCommerce website.
Improved address data can result in purchased items being delivered faster. With fewer address input mistakes, along with high quality customer address data, couriers can find locations easily, speeding up the delivery process.
Faster deliveries will ultimately improve customer satisfaction rates when using your eCommerce website, leading to positive reviews, positive word of mouth and repeat business.
Improved Conversion Rates
Using a built-in address verification tool on your eCommerce website can result in increased conversion rates.
eCommerce conversion rates refer to visitors to the website that become paying customers. Features such as address autocompletion and map selection features save time and reduce pain points for the customer when filling in their shipping details at the online checkout.
Improving and simplifying the checkout experience by making it faster and smoother results in less cart abandonment and can in turn improve conversion rates.
Reduce Non-Deliveries
With approximately 35% of addresses in Ireland sharing their address with at least one other property, delivering parcels isn't always straightforward for couriers.
Non-deliveries result in substantial added cost for many eCommerce websites. With more accurate location data, couriers will be able to find houses with ease, resulting in fewer non-deliveries of packages.
Address validation allows customers can easily pin-point their address, ensuring their exact address has been selected, helping users avoid inputting incorrect address data while also ensuring couriers aren't delivering packages to the wrong address.
Reliable Address Capture with DirectAddress
DirectAddress is Dataconversion's web API Eircode and Postcode solution. Using a lightweight jQuery plugin, it can be easily integrated with data capture forms on your website, your CRM, or your database application system.
It's a simple to use, lightweight and powerful API webservice allowing you to accurately capture and validate addresses. This will help your eCommerce site to easily enable address entry with Eircode/Postcode validation.
DirectAddress integrates easily with eCommerce and web development platforms, such as Shopify, Wix and WordPress.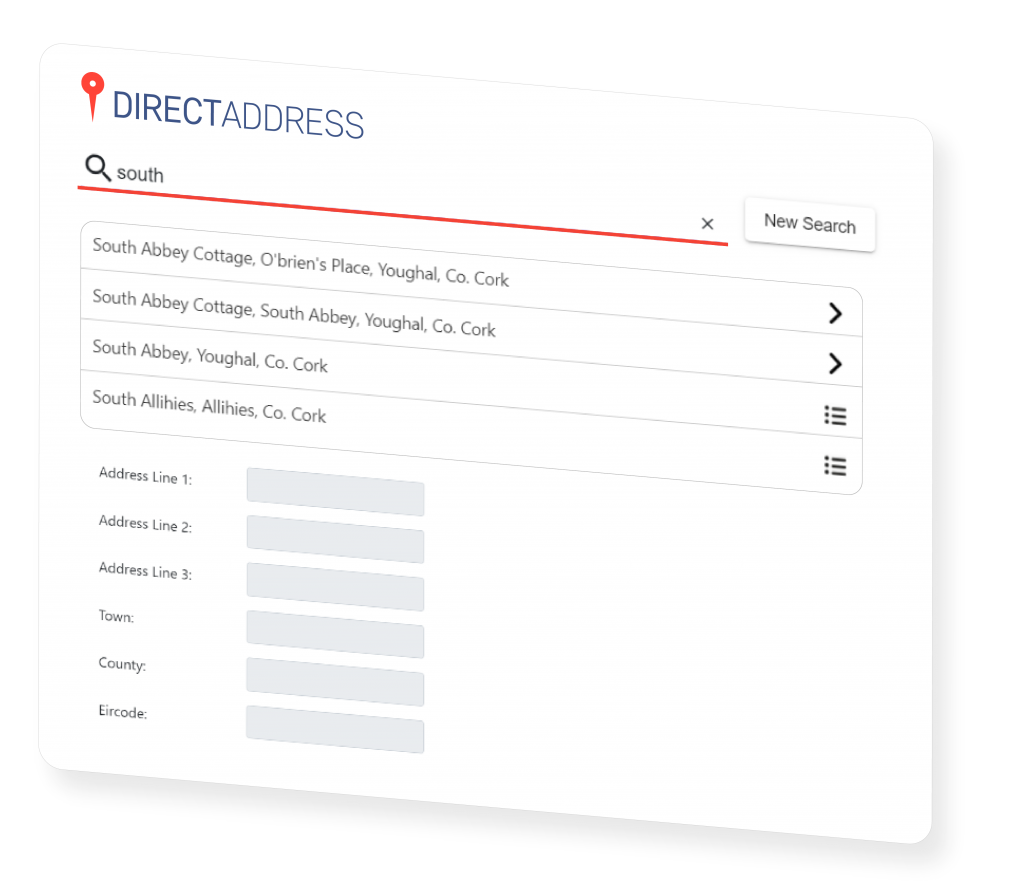 Are you considering improving your eCommerce customer experience in 2022 with an address verification/validation solution? If so, contact us today on +353 1 8041298, visit directaddress.ie for more information, or click on the link below to be brought to our contact form.