Our Rebranding Story
Hello & welcome to our first Dataconversion blog post. To kick things off we thought it only fitting to address the elephant in the room, our new website & logo. As you may (or may not!) have noticed we recently underwent an entire company rebrand. This was a truly exciting experience for us. One which challenged us to revaluate our brand strategy & competitive offering. After months of hard work we are happy to say that we are confident in our new brand identity and all the future opportunities that this will bring. For all our loyal customers, do not fret! We will continue to provide you with the same high quality service you have come to expect from us. We are simply expanding & improving our offering.  In this blog we will bring you through the steps taken in order to bring the new & improved Dataconversion to fruition.
A little background…
In 1971 Dataconversion begun operations by providing a data preparation service to large companies. Our skilled data entry operators converted information from companies' documents into a format that their computers could read. At that time information was recorded on punch cards, subsequently on magnetic tape and later on disk.
In the 1990s we began helping our clients to build their marketing databases, holding that information for them on our secure systems and maintaining it to ensure that it was accurate and free of duplicate records. From there we progressed to providing direct marketing services to our clients including personalised and relevant marketing letters, texts and emails.
The technological landscape is constantly evolving and thus we have been proactive in evolving too. With an increased demand for integrated marketing solutions we have expanded our offering to cater to our client's needs.
So why the change?
We prefer to view our rebrand as more of a natural metamorphosis than an outright overhaul. Over the past number of years the industry has undergone numerous changes. Technologies have been evolving at an ever increasing rate and in order to service our clients effectively we needed to ensure that we could always keep them one step ahead of their competitors! And so we did. We evolved and expanded, bringing a team of software developers in house in 2015 to allow us to streamline operations and produce higher quality end products for our clients. However despite this we still found ourselves to be facing a number of challenges.
We found that even though we had continued to expand our offering & internal capabilities we lacked the bravado to communicate this to current & prospective clients. In addition we found that when we were communicating, we were doing so at the wrong level. We had built strong & long lasting relationships with every level with which we worked, but were failing to infiltrate the top levels of our customers' companies. To ensure we were providing the most value to both you, our customers & us we needed to get in front of the CEOs, CXOs & CMOs of the world.
Research, research & more research!
For any brand review process to be successful, the first steps need to be based on understanding who you truly are. This meant sitting down with our team. Nobody was going to know us better than we knew ourselves. The process began with us first identifying key issues faced which have been outlined above. From here we were required to examine what it was that we were looking to offer our customers. This involved extensive brainstorming sessions & market research as we needed to determine, not only what we could offer but how we could differentiate our offering from others in the market.
The process followed the below steps;
Identify all our products & services.
Determine the commonalities between them.
Clearly define what problems they are solving for our clients.
Ensure that these solutions match our clients' evolving needs.
We commissioned our friends and leading marketing agency, Dara Creative, to help identify an enhanced go-to market strategy for the company by looking at the competitive landscape, providing a market analysis, and reviewing our positioning.
Once the necessary research was completed we moved onto the next phase of the process which focused on the designing the new brand & strategy.
New Messaging
Our new messaging focused on promoting Dataconversion as a Customer Experience (CX) company specialising in data strategy and associated software solutions and as such we needed our communications to reflect this. We therefore designed a new logo that we felt more accurately reflected our new brand identity. We also reworked our website as a first step towards communicating our new offering to our target market. The way in which we aimed to service our clients was evolving, not changing outright and thus we needed to make this clear. We wanted ensure that we didn't confuse current clients and as such involved them in the process by informing them of the changes & gathering their feedback on key areas of interest.
The Logo
Logos are a critical aspect of business marketing. As the company's major graphical representation, a logo anchors a company's brand and becomes the single most visible manifestation of the company within the target market. Therefore we thought it only correct to design a new logo to reflect our new direction and image. We, alongside Dara Creative, developed a number of different concepts before deciding on one which we felt best represented Dataconversion some of which can be seen below.
Some of the final concepts: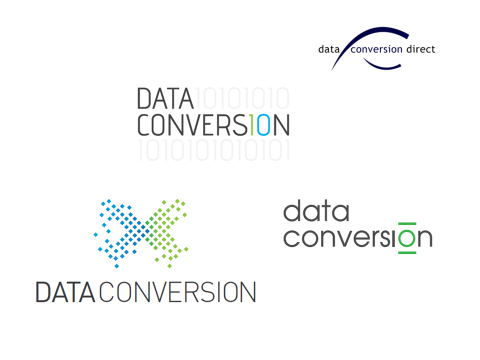 The chosen logo:

What the logo means to us:
The intersecting nodes make the D & C of Dataconversion and convey accuracy as well as symbolising the challenge of independent data silos which our clients' face. The intersection space conveys insight activity and growth, and our ability to connect data points. The red represents dynamism while the blue brings technology and trust. The upper case sans serif conveys stability and expertise. But all the fluff aside, our new logo represents a new chapter for Dataconversion. A necessary move forward for the company in an ever-changing technological landscape.
The Website
Our team of in-house software developers worked alongside the rebrand team in order to create a new website for Dataconversion, one which was more current and better reflected our new direction. We wanted to ensure that our website was user friendly and intuitive so as to maximise click through and time on site. After much discussion we settled on using the Avada Word Press theme. Not only is Avada the number one selling theme it allowed us to create a look and feel that we believe best represents us.
Now that the new site is up and running we are working on continually updating and improving content, hence the addition of a blog/ news section which will allow us to share valuable insights and information with you, our valued customers . If there's anything you feel is lacking, or if there's any data or technology area that you'd like us to blog about, please let us know. We'd be delighted to hear your feedback.